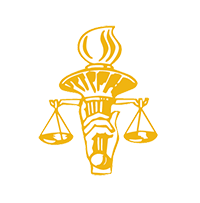 Part 1: Prosecutor-Initiated Resentencing: An Introduction to the Emerging Area of Law
Register

Prices available after logging in
The National District Attorneys Association is partnering with national nonprofit For The People, to provide a two-part series of educational webinars on a rapidly emerging area of law: Prosecutor-Initiated Resentencing.
For The People originated the process of Prosecutor-Initiated Resentencing (PIR) in 2018. The innovation enables prosecutors to review past sentences for potential release from prison when continued incarceration is not in the interest of justice. Now, prosecutors in several states across the country are working to enact and implement PIR policies, with close to 500 people released and hundreds more cases under review.
During this webinar, For The People's Founder and Executive Director Hillary Blout will share how she conceived of the innovation and how it is being used today. She will be joined by District Attorney Jeff Reisig, who has successfully led the charge on PIR in his rural county of Yolo, CA. Additionally, Jose Duran—who is an ironworker, delivery driver, and advocate—will share his firsthand experience being released from prison through PIR. Together, they will provide an inside look at the landmark law, equipping prosecutors with the knowledge to make informed decisions on how resentencing will affect their work.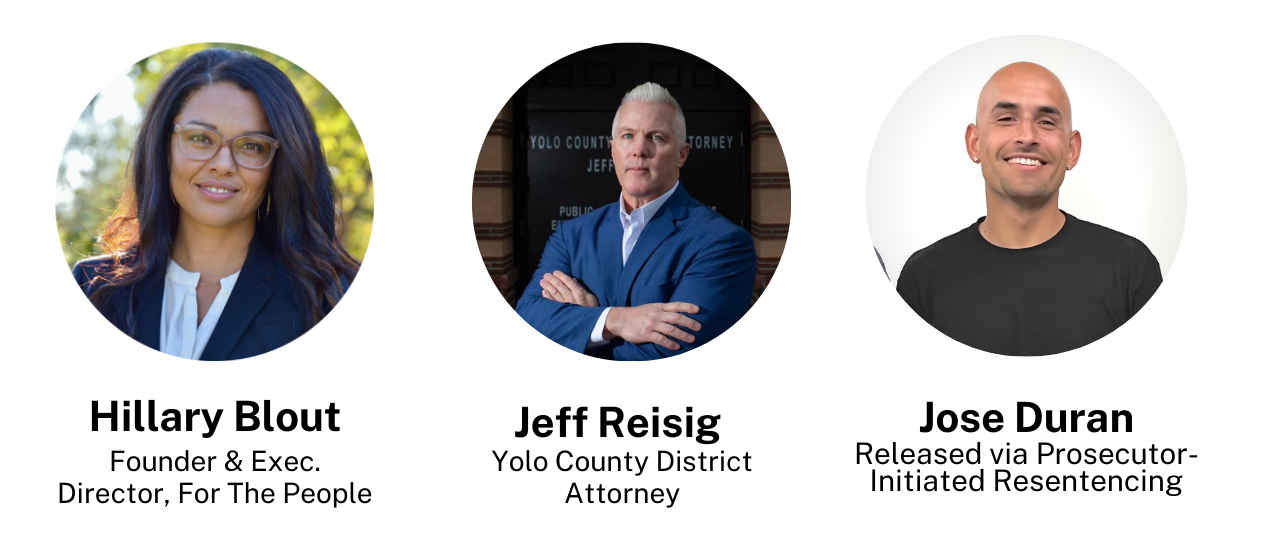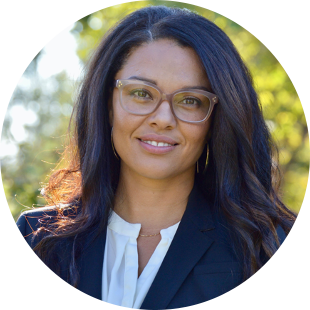 Hillary Blout
Founder and Executive Director
For The People
Hillary Blout is the Founder and Executive Director of For The People, a national organization that works with prosecutors, system leaders, community members, and incarcerated people to reduce the number of people serving excessive sentences. As a former prosecutor herself in the San Francisco District Attorney's Office, Hillary now works with prosecutors across geographies, constituencies, and the political spectrum to support the implementation of sentence review. Throughout her career, Hillary has provided her expertise on multiple transitional teams for elected prosecutors across her home state of California.
Hillary's work in sentence review and resentencing is rooted in her experience as Legislative Consultant and Criminal Justice Reform Advisor in 2018. It was then that Hillary drafted, managed and secured the passage of AB 2942/Penal Code 1170 (d)(1)—the nation's first law allowing prosecutors to facilitate the release of incarcerated people. This then led to the founding of For The People.
Beyond her work in policy and implementation, Hillary is a seasoned facilitator, leading trainings and collaborations with a number of law enforcement and criminal justice organizations—including the Association of Prosecuting Attorneys, Vera Institute of Justice, National District Attorney Association, The Sentencing Project, University of California, Davis, among others. Hillary also hosted Prosecution Leaders of Now in 2021, ensuring executive education for emerging leaders in prosecution. In 2022, she became the recipient of Fast Company's 2022 World-Changing Ideas Award highlighting her innovations in criminal justice.
Blout has also served as a Policy Director and Consultant at Fair and Just Prosecution, providing ongoing support and technical assistance to a national network of elected prosecutors. Additionally, Hillary served as a Clean Slate/Post-Conviction Attorney, Statewide Director for Proposition 47, and Campaign Consultant with Californians for Safety and Justice.
$i++ ?>
Jeff Reisig
District Attorney
Yolo County District Attorney
Jeff Reisig is the District Attorney of Yolo County located in Northern California, between the San Francisco Bay Area and Sacramento. Reisig has served as the county's chief elected law enforcement official since 2007. In addition to overseeing all criminal prosecutions in the county, he also leads one of the state's most active environmental protection divisions.
During his tenure as DA, Reisig has focused intently on expanding diversion programs as a way to smartly redirect people out of the criminal justice system and into community based programs. In collaboration with community stakeholders, Reisig designed and launched a restorative justice-based alternative to traditional prosecution, called Restorative Justice Partnership (RJP), formerly known as Neighborhood Court (NHC). Since its launch nearly a decade ago, thousands of people have been successfully diverted into the program, thereby ensuring accountability and victim healing, while also reducing recidivism and the criminal justice footprint. In addition, he has promoted multiple highly successful diversion programs designed to help those suffering from serious addiction and mental illness.
Reisig was the first prosecutor in the nation to launch a third-party hosted data-transparency portal in collaboration with the national reform organization Measures For Justice and a diverse community group he formed nearly a decade ago, the DA's Multicultural Community Council. The portal provides the public nearly unrestricted access to criminal justice data from his office, while also giving community members a platform to directly share their findings and engage policy makers and the media on the data. In addition, the real-time comprehensive data has helped Reisig drive significant local policy changes to help mitigate against racial disparities and other factors that often contribute to historic inequities in the criminal justice system.
Reisig was one of the first district attorneys in the state to require all of his deputies to regularly receive implicit bias training. In addition, in 2017 he partnered with the Glide Church in San Francisco to form an immersion course for peace officers and prosecutors, designed to intimately expose participants to those who are suffering on the streets in order to develop a deeper level of understanding and empathy.
District Attorney Reisig was elected by his California colleagues as the incoming President of the California District Attorneys Association in 2021.
$i++ ?>
Jose Duran
Released via Prosecutor-Initiated Resentencing
Born in California, Jose Duran spent the first ten years of his life in a neighborhood in Mexico plagued with violence. In 2011, when he was 18 years old, Mr. Duran was arrested and convicted of second-degree robbery, conspiracy to commit second-degree robbery, assault, battery and gang activity. He was subsequently sentenced to 21 years-to-life in state prison.
When Mr. Duran entered the prison system, he was just 20 years old. Facing a life sentence, he struggled with depression and anxiety. However, Mr. Duran instead sought help through mental health treatment. He began actively participating in rehabilitative programming, such as anger management, victim awareness, gang awareness and recovery, and insight awareness, among many others. Determined to change his trajectory, Mr. Duran put in the time and deep self-reflection to identify the factors that led to the crime, and focus on awareness of the impact on the victims.
On September 23, 2021, at the recommendation of District Attorney Jeff Reisig, the Yolo County Superior Court resentenced Mr. Duran to time served. Now 29 years old, Mr. Duran served 11 years in prison and had 10 years-to-life remaining on his sentence. Today, he is a union ironworker and delivery driver, beginning his days at 4am and working hard in his community—in addition to volunteering to support youth through mentorship programs. Most recently, Jose participated in the Yolo District Attorney's Citizens Academy, highlighting his journey through resentencing and advocating for others in the criminal justice system. We are thrilled to see Jose thrive.
$i++ ?>
Key:
Complete

Next

Failed

Available

Locked